Sections 7 thru 9
---
Read Doctrine and Covenants sections 7 thru 9
---
John, the Revelator, and his unusual request (2)
. During the Lord's mortal ministry, John and his brother James had some "lofty" requests, which made the other Apostles rather upset (Mark 10:35-41); however, this time the Lord granted John's request. Can you see why?

. President John did not ask for such a great blessing out of curiosity (for example, to see what the world would be like in the future) nor out of vanity (i.e. to become some kind of super human being); exactly like Alma the Younger and the Three Nephites, all Elder John wanted was to preach the gospel and bring people unto Christ (see Alma 29:1-3,9; 3 Nephi 28:4-10)

. Notice how this agrees with the idea proposed in the classroom notes for D&C 4:5
---
Insights on the spirit of revelation (2-3; see also D&C 8:8-9)
. Compare these words with the ones the Lord spoke to Samuel, the Lamanite (Helaman 13:3-4) and to Oliver Cowdery (D&C 6:22-23)
Insights on "the prayer of faith" (10)
. Review Mahonri Moriancumer's (a.k.a. the brother of Jared) experience with the prayer of faith (See Ether 2:19-23; 3:1-6)
---
The process of receiving answers from the Lord through the power of the Holy Ghost (8-9)
Study the problem or question

In the cases of problems, consider all variables causing them. Often, people fail to resolve their problems effectively and permanently because they try to fix them without first learning what is causing them. In other words, they deal with the symptoms but not the causes.
Once the causes of the problem are identified, search the scriptures and the words of the modern prophets; see if there are examples of personages who had similar problems and understand how they solved them (But as a general rule, avoid any past solutions that involved swords, guns, etc.--everything must be updated to the parameters of the current dispensation). In the instances where there aren't precedents, conceive (with the help of parents and/or priesthood leaders) potential courses of action to address them. Consider the pros and cons of each alternative course of action. See which course of action best fits the promises contained in your patriarchal blessing and other special blessings you may have received.
And in case you are wondering-Yes, this whole process may take quite some time: hours, days, weeks, and depending on the problem, months or years. Consider, for example, the statement from the Apostle Paul contained in 2 Corinthians 12:7-10.



Ask the Lord if the chosen solution is right

This is no ordinary "late-night couple-of-yawns mechanical" prayer. This is a conversation with the Lord that may require a quiet place where one will be undisturbed for a good period of time. Fasting may also be very appropriate for the occasion.
This prayer must follow the pattern of other prayers recorded in the scriptures (a few examples: Numbers 14:11-20; 1 Nephi 1:5,14-15; Enos 1:3-4,9,11-12; Alma 18:41; 19:14; 22:18; 34:17-28; 46:13; 3 Nephi 1:11-12; 18:19-21; Ether 3:2-5.) In general, such prayers could follow the following structure (the following list is by no means comprehensive nor authoritative):

(1) Doxology--i.e. expressions of thanksgiving, praise, and acknowledgment of the Lord's supreme power
(2) A full, detailed account of the history and causes of the problem to be solved or of the circumstances that led to the question being asked
(3) A full report on the scriptural or historical examples of similar solutions to the problem, or the scriptural/historical rationale for the question
(4) Request--ask the Lord for the specific blessing needed. Indicate in details how and when the blessing should be bestowed. Indicate what part you will have in the solution (Remember that the Lord will bless us only with those things that lie beyond our power)
(5) Final doxology; close the prayer
The Lord will answer the prayer either with a "burning in the bosom" or "stupor of thought"

This sensation of "burning in the bosom" has been described in different ways by different individuals. However, in general, it brings a "sensation of assurance" much stronger than a simple belief, accompanied by a feeling of joy and enthusiasm
Stupor (9)
. A state of mental numbness, as that resulting from shock; a daze
. Marked by great decrease of mental activity or feeling, often produced by sleepiness, illness ... it suggests a benumbed and dazed state
. Drowsy dullness; apathy; sluggishness; inertia; inactivity; weariness or diminished energy such as might result from physical or mental strain


. In other words, the "stupor of thought" is experienced when some time after the prayer one continues to be uncertain, doubtful, fearful, etc. In such circumstances, one must go back to the "drawing board" and consider other alternative solutions, repeating the process until one experiences the "burning in the bosom"

Consider these teachings on revelation from several latter-day prophets:
The Prophet Joseph Smith:
"All things whatsoever God in his infinite wisdom has seen fit and proper to reveal to us, while we are dwelling in mortality, in regard to our mortal bodies, are revealed to us in the abstract, and independent of affinity of this mortal tabernacle, but are revealed to our spirits precisely as though we had no bodies at all; and those revelations which will save our spirits will save our bodies." (Teachings, p.304)
Pres. Spencer W. Kimball:
"The burning bushes, the smoking mountains, the sheets of four-footed beasts, the Cumorahs, and the Kirtlands were realities; but they were the exceptions. The great volume of revelation came to Moses and to Joseph and comes to today's prophet in the less spectacular way-that of deep impressions, without spectacle or glamour or dramatic events. Always expecting the spectacular, many will miss entirely the constant flow of revealed communication." (Conference Report, Munich Germany Area Conference 1973, p.77)
Elder Dallin H. Oaks:
"... What does a 'burning in the bosom' mean? Does it need to be a feeling of caloric heat, like the burning produced by combustion? If that is the meaning, I have never had a burning in the bosom. Surely, the word 'burning' in this scripture signifies a feeling of comfort and serenity. That is the witness many receive. That is the way revelation works. Truly, the still, small voice is just that, 'still' and 'small.' 'The language of peace, as spoken by the Lord, embraces a sense of quiet confidence, comfort, and warmth. It is gentle and calm, amiable and sweet; it is temperate and kind; it is orderly and identified by happiness, joy, and feelings of love.'"

"... [We] should recognize that the Lord will speak to us through the Spirit in his own time and in his own way. Many people do not understand this principle. They believe that when they are ready and when it suits their convenience, they can call upon the Lord and he will immediately respond, even in the precise way they have prescribed. Revelation does not come that way.

"... In most cases, 'his own way' is not the thunderous interruption or the blinding light, but what the scriptures call 'the still small voice' (1 Kings 19:12; 1 Nephi 17:45; D&C 85:6). Some have misunderstood this principle. As a result, some have looked exclusively for the great manifestations that are recorded in the scriptures and have failed to recognize the still, small voice that is given to them. This is like making up our minds that we will learn only from a teacher who shouts and that we will refuse to listen to even the wisest teaching when it comes in a whisper. (in Joseph Fielding McConkie and Robert L. Millet, The Holy Ghost [1989], 14) (Elder Dallin H. Oaks, "Teaching and Learning by the Spirit," Ensign, Mar. 1997, 7)
---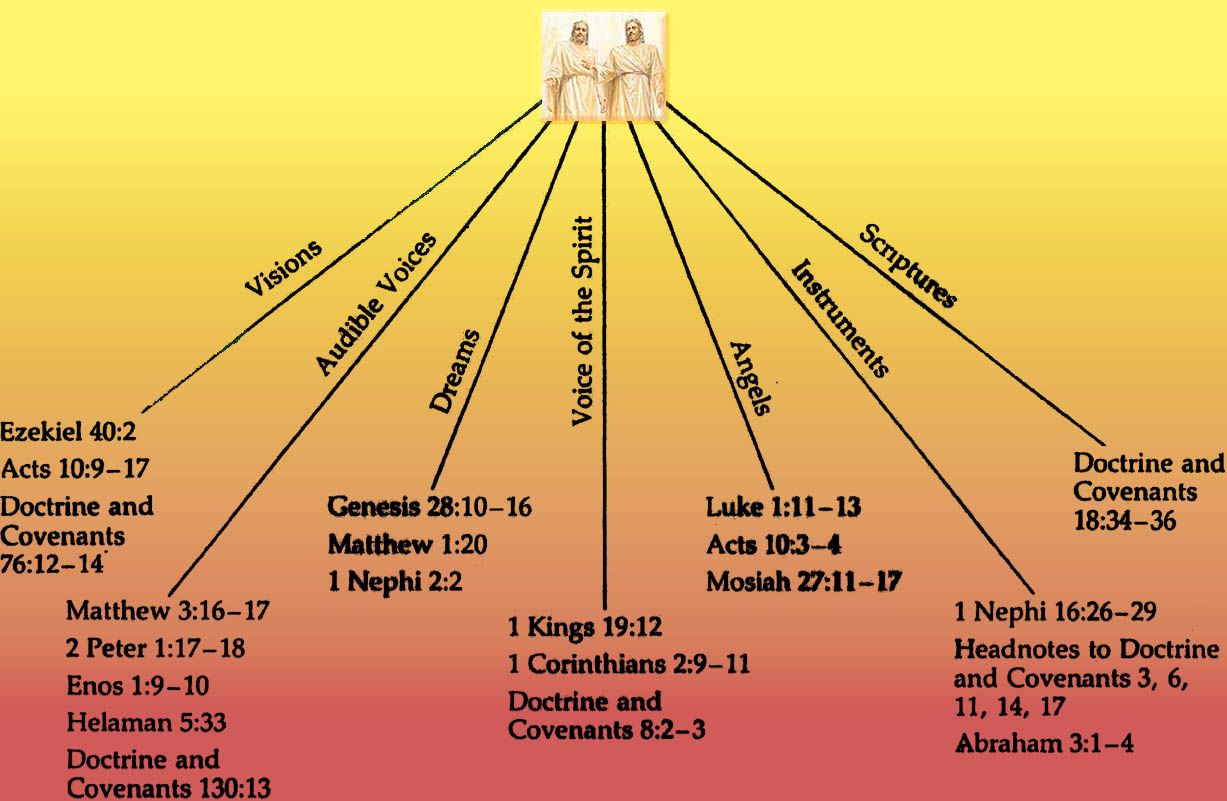 ---
Questions for Review
1. What did John, the Beloved Disciple, ask the resurrected Christ? (7:2)

2. Under what influence did Moses guide the children of Israel through the Red Sea? (8:3)

3. What is a "stupor of thought"? (9:9; lecture notes)
---
This page was published only as a support for classroom discussion.
For more information, contact Dr. Marcus Martins at: martinsm@byuh.edu
Copyright © 1994-2021 - Marcus H. Martins